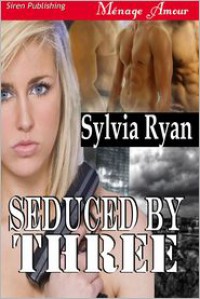 Check out my other listens at Eargasms Audiobook Reviews
Wow!! This book did a much better job of updating you on the situation and what happened with the EMP. If I had not read the first book to know the situation, this would have done a great job of bringing me up to date.
Grace is an awesome character, she really does own herself. She knows what she wants and goes for it, even if she does make some mistakes along the way. Very independent! A kick butt chick who finds her place.
Sarge, Luke and Van are really fabulous trio. They go through fights and jealousy, that seemed to be a more realistic reaction to the menage. As a trio they make a perfect guy, each has something special to contribute to the group.
Loads of story here to really bring you into the situation. The mixed POV really helps the story become fuller and heartier. Most of the time you get Grace, but there is a great mix of the guys as well. I loved getting into every bodies heads.
Once again, Rex J. Silverton is a delightful narrator!! He is really delicious during all those steamy scenes. His voice alone has a gal looking for a change of panties!! Sigh!
Plenty of steamy play, with loads of variety. Sweet, domineering, bondage and menage action. Oh, yeah!!