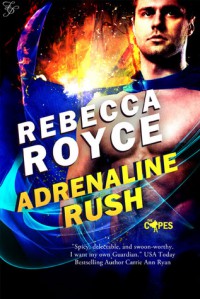 Really great second book in the series, this time we get Ace's HEA!
I really like Ace even with his playboy careless persona. Those are usually the guys in books with hidden depths. He had a wonderful way if dealing with his lady love's caustic bite.
Alice is that girl who has had her gentle side beaten down by too many folks taking advantage. She tends to have the strike before they strike you attitude. It is a long haul for her to get back to her softer side, the person she pretends to be on camera.
Another really great story with only one smoking hot scene. Almost a mainstream read, except the steam was more detailed!
There were times in the story I wanted to slap both characters but in the end they grew and learned. There is plenty to keep them busy with the assassin, which was not much of a surprise. In the end I laughed and I cried, that is the sign of a good book. I am a sucker for a book that puts me through the emotional paces!
I would love to see more of this series. Other Guardians HEA, it really is a very full world that has so many more possibilities. Plus, we need baby bro Lael to grow up and find his live!
*Disclosure - I received a copy in exchange for a honest review. All thoughts, opinions and ratings are my own.*