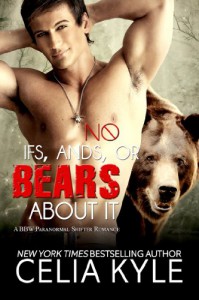 LOve it!!! Yes, another smexy bear shifter series for me to salivate over!! They are just so big, brawny and grumpy!!! Not to mention the Alpha-ness of it all!! Sign me up for some of that action any day of the week!
Mia is fantastic, with her snarky attitude and protectiveness. I loved the way she did not take any crap and from those big ole bears! She really is one of the awesome characters who knows herself and is comfortable in her skin. I adore a curvy girl who does not spend the whole book moping about her size! She is voluptuous and celebrates the curves!! Good thing cause bears like something to cuddle up to!
I am totally in love with Ty, he is all yummy Alpha in the protective way! Sure he makes mistakes by being over protective but that is what I love about him. And do not come between him and his mate, or threaten a child, or smack talk his lady! Ty also stays true to the adage of bears loving their sweet treats!!
The steam is delicious, but mostly foreplay and talk of hard/wet reactions. That is not to say it doesn't delivery on the smexy, but it is more talk and oral. There is a wicked mating scene though that does the deed!! Yum!!
So many wonderful supporting characters, this had better be a series, a big series!! There are bears brothers, a mature single daddy bear and some frighteningly sexy wolves!! Oh boy, there are so many book boyfriends to choose from, how will a girl pick only one. Maybe I can have one of each?
I am hoping the next book is on the way, please let it be Keen or Issac.
Disclosure - I received a copy of this book in exchange for an honest review. All thoughts, opinions and ratings are my own. To be fair, I would have bought the book on my own, I was just waiting for payday!