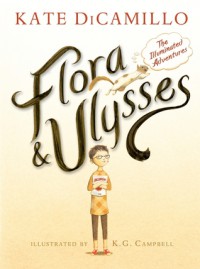 Check out my other listens at Eargasms Audiobook Reviews
This is an adorable adventure book!! I loved how quickly it flowed, really fast paced story. It is a middle grade book but a lot of the vocabulary is above that level, this is why the audiobook is terrific. Kids can listen to am awesome story and learn new words as they go. Even better if they listen while following along in the book, that would double the comprehension.
The story is mostly light and fun but there are some serious themes hidden under the silliness. Divorce, death, separation anxiety and other pressures today's kids face. These are all cleverly disguised by the creative and energetic story of Flora and her typing squirrel Ulysses.
I loved all the characters, most are quirky and fun. even her mother as the Nemesis is not too bad. I loved the references to the comic books throughout, very imaginative device for introducing information. This is just the sort of book a parent could read with their child, so many wonderful elements to entertain all ages.
I listened to the audiobook narrated by the fabulous Tara Sands. She has great voices that are distinct and consistent throughout the story. Wonderful accents and changes in tone help make it clear who is speaking. She has a brisk pace in the read, but younger reader always have the option of slowing it down on Audible or whatever they are using to listen. She has a great way of adding energy to the read at all the right times. The action scenes were especially fun because of the dynamic read and background music.
Overall this is a very fun read for kids ages 10-14, possible for parents reading to kids a touch younger. Loads of themes that could provoke discussion and help kids adjust to tough situations like Divorce. It also highlights that sometimes adults say or do things they do not mean when stressed but always love you. Really great lesson for kids.